Get An Instant Sixt Platinum Status
While Sixt has historically been a strong rental car agency in Europe, they've also been expanding quickly in the US. Over the years they've offered several status upgrade opportunities, and they're back with their latest status upgrade opportunity, which is both easy and instant.
Upgrade to Sixt Platinum Status
To get upgraded to Sixt Platinum status, just register for a Sixt account here. After entering your basic info and confirming your email address, you'll immediately be upgraded to Sixt's Platinum status.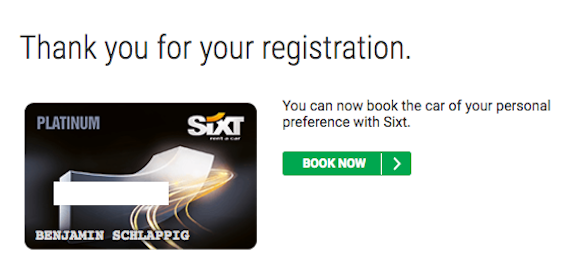 What are the benefits of Sixt Platinum status?
You can find the full listing of Sixt Platinum benefits here, though on the most basic level you'll receive a free upgrade, and in the US even a double upgrade. Furthermore, you can add additional drivers at no extra cost in the US.
But what makes this actually exciting is that Sixt has reasonably priced, nice cars. So sure, they have economy cars like the rest of the major rental car agencies at competitive prices.
But for marginally more they have much nicer cars. For example, for an extra ~$10 per day you could get a Mercedes.
Then if you have Platinum status you'd get a double upgrade, so you could end up in a really nice car. The only type of cars excluded from upgrades are "special" cars. So perhaps I wouldn't count on an upgrade to a Mercedes G Wagon, but otherwise you may still end up in a very nice car.
Bottom line
I'm excited to see Sixt expand in the US, and especially to see the relatively reasonable prices they charge for nice cars. If you're someone who doesn't mind paying marginally more for a really nice car, then a Sixt Platinum status match is for you. If you book an entry level Mercedes for only marginally more than the base car, you may end up in an awesome car. That's where I see the value in Sixt Platinum, personally.
Any Sixt Platinums out there, and if so, what has your experience been like?