Alaska Airlines Mileage Plan Introduction
Alaska Airlines' Mileage Plan program is one of the most flexible of the US frequent flyer programs out there.
If you find yourself flying on a range of carriers in the US, banking your miles to Mileage Plan is a fairly savvy strategy.
The carrier has a large presence throughout the West Coast, but it also provides nonstop service to several East Coast destinations, travels to every Hawaiian island, and partners with a diverse array of other airlines.
Membership Tiers
Mileage Plan offers its customers three elite membership tiers: MVP, MVP Gold, and MVP Gold 75K. Qualification criteria for each tier are lowered if customers fly only on Alaska Airlines, or you can credit travel on Delta Air Lines, American Airlines, and several international carriers.
▼ The qualification requirements of each elite tier

▼ The benefits of each elite tier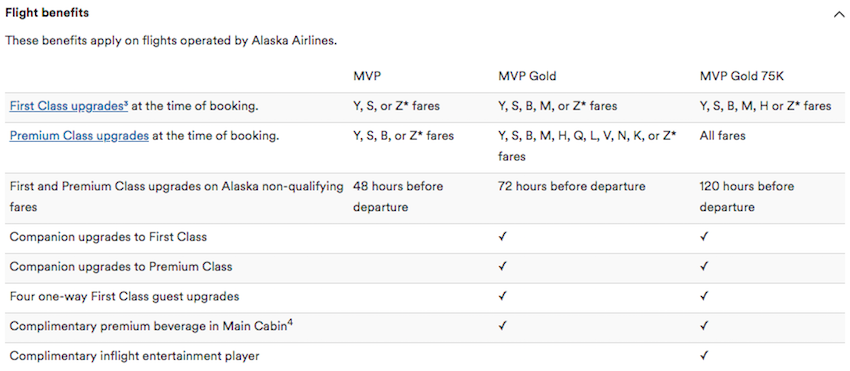 More big picture, here's what makes Alaska Mileage Plan special:
They continue to award miles based on distance flown rather than how much you spend
They let MVP Gold members and above cancel revenue tickets for free, and the value of the ticket is placed in their "travel bank" and can be applied towards a future ticket
They have a great same day flight change policy
All elites get unlimited complimentary upgrades, and MVP Gold members and above receive four upgrade certificates they can use to confirm an upgrade in advance
They have great mileage bonuses — MVP Gold members earn a 100% mileage bonus, while MVP Gold 75K members earn a 125% mileage bonus, plus 50,000 bonus miles when they requalify; that means if an MVP Gold 75K member flies 90,000 miles to qualify for status, they'll really earn 252,500 miles, which is ~280% of the distance flown
Alaska has great airline partners, so it can be lucrative to fly their partner airlines and then credit miles to Alaska
The number of miles you can earn for travel on some partner airlines is pretty incredible; for example, for discounted British Airways business class you earn 150% elite qualifying miles and 250% redeemable miles, and this doesn't include the elite mileage bonus, which can be up to an additional 125%
Alaska Airlines' Status Match Challenge
You can be matched to MVP, MVP Gold, or MVP Gold 75K, though the status match is only valid for three months
In order to maintain the status beyond that you need to earn the following elite miles exclusively through travel on Alaska within that 90 day period (travel on partner airlines doesn't qualify):
You need to earn 5,000 elite miles to maintain MVP status
You need to earn 10,000 elite miles to maintain MVP Gold status
You need to earn 20,000 elite miles to maintain MVP Gold 75K status
Status matches are only valid for those who have achieved elite status through actual flight miles or segments in another program, and not those who have achieved status through credit card activity, transferred points, or other promotional offers.
Request An Alaska Status Match Challenge
Alaska Mileage Plan has a dedicated status match challenge website. There you'll be asked to select the status you want to match, enter your Alaska Mileage Plan info, and provide proof of your status with a competitor.
If you do not have any elite status with a competitor, there's still a way to become a MVP member which is nominated by a MVP Gold 75K member. Please see here if you need MVP nomination.
Alaska Airlines Mileage Plan Miles
Alaska Mileage Plan miles are some of the highest-valued airline miles in TPG's valuations. And that's not just because of the sweet spots you can get on Alaska flights. Alaska also has partnerships with several highly-useful international airlines and features great award rates on many, with free stopovers – even on one-way flights. This means smart mileage redeemers can score some incredible deals.
There's an easy way to rack up miles for cheap if you've tapped out the above options: Alaska Mileage Plan periodically puts its miles on sale, allowing you to top up or stock up. And one of those sales was just extended on last Dec. 30, you can buy Alaska miles with a 50% bonus.
Buy Alaska Airlines Mileage Plan miles here
Use Alaska Airlines Mileage Plan Miles
Let's start with my absolute favorite, flights between the US and Asia on Cathay Pacific. You can fly in first class for only 70,000 miles each way, or for 50,000 miles in business class. Even 30,000 miles each way in coach is not half bad, and you'll see that Cathay Pacific is one of the few airlines that makes it easy to redeem for premium economy awards.
This has to be the single best use of Alaska Airlines miles, as most other programs would charge you twice as much for a one-way first-class flight to Asia.
Another great option is flying on Japan Airlines, though you'll pay a little more in business class. While Alaska treats all of Asia as one region for redemptions on Cathay Pacific, you can see that Southeast Asia is slightly more expensive when flying with Japan Airlines.
One advantage of flying Japan Airlines is that you can book these flights directly on the Alaska Airlines website, while with Cathay Pacific you'll have to search for award space elsewhere (try British Airways or Qantas) and call to book.
Another way that Alaska really outshines the competition is by allowing free stopovers on one-way award tickets. You're not allowed to have multiple partners on a single award flight, but you can use a domestic Alaska Airlines flight to position yourself for an international partner flight. Your stopover can either be in the US as part of the Alaska connection or at the hub city of the partner you're flying. This means if you're flying with Cathay Pacific, you get a free stopover in Hong Kong (or in Tokyo if you're flying with Japan Airlines).
For partners which can be booked directly on the Alaska Airlines website (which is all of them except Cathay Pacific and LATAM), you can even book the stopover yourself by searching for a multi-city award. (I would still recommend first searching segment-by-segment to find the award space you need before going on to the multi-city search.)
With that all out of the way, let's take a look at a few other good uses of Alaska Airlines miles for partner airlines. Flights to Europe aren't outrageously expensive, but they start to feel that way when you think about how many ways there are to use Alaska Airlines miles.
Pro Tip: American Airlines is probably the best partner to use for Europe, with rates as low as 22,500 miles each way in coach during off-peak dates.
You might also want to use the free stopover in Hong Kong to break up a journey from the US to Australia, one of the hardest destinations to get to with points and miles! Cathay Pacific's extensive route network and the ability to add stopover will give you more flexibility to find award space.
Alaska also partners with Qantas for trips to Australia, although the odds of you finding a saver level premium award seat on one of Qantas' nonstop flights from the US is so low that it's probably not worth your time to bother searching.
What not to do: Alaska Airlines used to be one of the best options for booking Emirates first-class awards thanks to low rates and no fuel surcharges, but a no-notice middle-of-the-night devaluation changed all of that. While Alaska still does partner with Emirates, it'll cost you 150,000 miles for a first-class award from the US to the Middle East, or confusingly, 180,000 miles for a shorter trip to Europe on one of Emirates' fifth freedom routes.
Is Emirates really good enough to be worth the equivalent of two Cathay Pacific first-class awards? It absolutely is, especially if you can book it without paying any fuel surcharges, but it's going to take you a while to rack up enough miles to make that dream a reality.
2. Domestic Flights
If you're looking to stay within the US, you can redeem your Alaska Airlines miles for flights on Alaska Airlines or American Airlines. Alaska prices its awards based on distance, whether you want to take a hop, skip or a jump:
Flights on American Airlines are much simpler, as you'll pay 12,500 miles each way in economy and 25,000 in business class. You can also use your Alaska Airlines miles to fly to Hawaii, starting at just 15,000 miles each way for flights on Alaska Airlines and 22,500 miles each way for flights on American Airlines.